Botox & Dysport New York City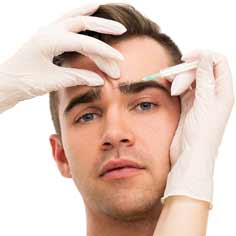 These are forms of botulinum toxins which reduce frown lines, forehead lines, crow's feet, neck bands, depression of the corners of the mouth and puckering of the skin of the chin. Facial lines generally run perpendicular to the muscles they overlie and are due to the attachment to these muscles. These substances work by relaxing the muscles which in turn reduces the lines over the muscles.
Treatment is by injection after a topical anesthetic is applied. Depending on each patient's needs, small quantities are injected directly into the muscles and is only moderately uncomfortable. After treatment, Dr. Simone will give you instructions and exercises to do. Results will become obvious starting on the fourth day and continue to become apparent up to 7-10 days. Frown lines will relax, forehead and crowsfeet lines soften, and the brow arch can be elevated.
Results vary widely depending on the dilution and amount used. Dr. Simone believes that there should be a relief of lines and wrinkles while not looking "frozen" and expressionless. Results should last 3-6 months. Complications are rare and will be discussed.