Male Aesthetic Surgery New York City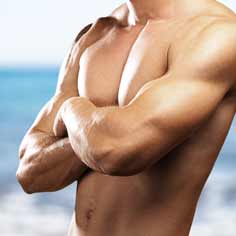 More and more men are seeking cosmetic surgery than ever before. The reasons are many and include:
Desire to feel attractive
Improved self-esteem, self-confidence, sense of self
Men are retiring later, at an older age
Need to stay competitive in workforce alongside younger men and women
Greater attributions of credibility if a man appears younger/more attractive
Attention to sustaining good health through exercise, diet and fitness
Need to "look as young as you feel"
Maintaining physical appeal for spouses, partners, and everyone else
According to the American Society of Plastic Surgeons, 1.1 million cosmetic surgeries were perform on men in 2010 and has increased several percentage points each year. The greatest increases have been in male Facelifts, Necklifts, Liposuction and Breast Reduction [Gynecomastia]. And despite the downturn in the economy since 2008, the absolute number of cases is going up annually.
Cosmetic Surgery for men applies the same principles for surgery as for women–with a difference. Dr. Simone has developed and refined surgical concepts and techniques specific to the needs of men by his in-depth knowledge of male anatomy and concepts of male beauty. With body liposculpture and surgical procedures, he can define musculature of the abdomen, chest, flanks and arms. In the older male, it is critical to maintain the strength of 'male character' visually while reducing and improving on the signs of age, loss of tissue integrity, laxity of skin and body changes through weight gain and loss of muscle mass. Lower testosterone comes with age reducing the ability to build and sustain muscle bulk and definition, even with vigorous exercise. This is compounded by relatively higher proportion of female to male hormone ratios Many plastic surgeons, however do not make the necessary surgical adjustments to maintain 'maleness' and often wind up feminizing male patients.
Procedures for men very closely follow the same pre-operative and post-operative courses as woman. After each category below, you will be linked with a more inclusive discussion for each topic.
The following are procedures most commonly done in men:
Takes the look of aging out of the face giving a more youthful appearance.
Corrects:
Loose and Sagging facial skin, deep folds between cheeks and mouth
Pronounced Jowls
Neck laxity and sagging; looseness of skin with lines and wrinkles.
Can be done in Conjunction with:
Eyelid Plasty surgery to reduce bags, remove excess skin and upper lid heaviness
Facial implants to improve cheek/chin/jaw contour for strong masculine look
Fat Injections
Injectables/Fillers such as Restylane/Perlane/Sculptra
Depending on the findings, can be done either as Full Facelift, Upper Face Lift [modified Short-scar incision], or Lower Face/Neck Lift
For more information Click Here
Removes heaviness and fatigue from eyes. Gives more rested, alert and youthful look.
Corrects:
Heaviness/sagging/folds of upper eyelids; reduces wrinkling
Bags and wrinkling of the lower lids
Can be done in Conjunction with:
Other facial aesthetic procedures such as Facelift, Neck lift, cheek/chin implants [Chinplasty], Fat Injections
For more information Click Here
Corrects:
Nasal deformities and breathing problemsg
Unaesthetic nasal composition
Septal deviations and deformity
Lack of harmony of nose with other facial characteristics
Maintains:
Strong masculine look without feminizing the Improves facial feature composition nose with relation to rest of face.
Maintains ethnic and personal considerations.
Can be done in Conjunction with:
Chin Plasty, Fat Injection, Eyelid Plasty
For more information Click Here
Corrects:
Underdevelopment, weak or recessive chin with implants or fat injections
Underdevelopment of jaw line using implants
Oversized and protruding chin through reduction of bone
Chin plasty:
Improves contour of the chin and jawline by changing size and shape to compliment the facial features
Produces a more masculine, strong jawline when underdeveloped
Balances the face and can give more youthful appearance.
Can be done in Conjunction with:
Rhinoplasty, Eyelidplasty, Otoplasty (correction of prominent ears), other facial surgery
For more information Click Here
Reduces excess size of male breasts
Corrects:
General fullness of breasts
"Pointing" of breasts
Contour of entire chest. Can be done by Liposuction alone or in conjunction with excision of tissue, if true glandular
Tissue is present through minimal scar. Can be done with liposuction of other areas, such as "love handles" and abdomen
For more information Click Here
Corrects:
Fat deposits from "love handles", abdomen, waist, breasts, hips, thighs, upper arms, chin, neck.
Gives a more defined shape through recontouring each particular area to a more masculine, youthful appearance by fat removal and tissue sculpting.
Can give definition to muscular "Abs" and deltoids
Removed fat utilized as Fat Injections to enhance other areas where defects are present
For more information Click Here
Corrects:
Redundant, excess sagging skin and fat of the abdomen, thighs, breasts, arms, waist. Combining direct surgical excision and liposuction
Improves contours, form and shape
For more information Click Here
Removes fat from inconspicuous areas or areas of excess fat which is then concentrated by centrifugation and injected into areas where it is needed.
Corrects:
Depressions, hollows, contour deformities, loss of substance and fat, due to aging, sagging, disease, post-surgical deformities of face and body
Often given to deep depressions between cheek and mouth, 'marionette' lines [from corner of mouth to toward chin], cheeks, jaws, chin
Fat injections are used for patients hesitant/apprehensive to use other Injectables (Restylane, Perlane, Juvederm, Voluma, etc.) or who prefer to use their own tissues rather than a produced substance
Frequently used at time of facial surgery (Facelift, Eyelid Plasty)
For more information Click Here
A condition of extreme and excess sweating causing self-consciousness, embarassment Constriction of activities, destruction of clothing
Occurs mostly in axillae [armpits] but can occur on hands, face groin area
Treatment by Injectables of Botox or Dysport is almost universally successful Surgical excision is a second level of treatment
For more information Click Here
The use of materials that are highly effective and biologically very safe. These substances can be used alone or together (Liquid Facelift)
Include:
Botox/Dysport
Reduce or obliterate frown lines, forehead lines, Crow's feetg
Elevate Sagging Eyebrows
Reduce bands of the neck giving appearance of sagging
Restylane/Pearlane/Juvederm (Hyaluronic Acid-HA- a natural body substance)
Fill out lines around the mouth-upper lip and lower lip
Fill out frown lines out
Fill naso-labial hollows between nose/mouth and cheek
Reduce the appearance of jowls by adding in front of and in back of existing jowl, giving a straighter, stronger jawline
Sculptra Aesthetic (microgranules of a Poly-L Lactic Acid)
A volumizer giving substance to build up facial bones and deep facial tissue by provoking the development of collagen under the skin.
The microgranules are eventually resorbed leaving built-up collagen behind
For more information Click Here