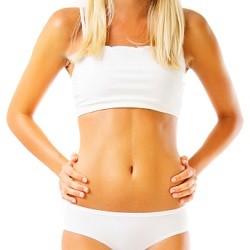 You have probably heard about how a tummy tuck can give you a flat and well-toned stomach, but you may be wondering exactly how the procedure is able to accomplish this. Although it may seem complicated, the tummy tuck procedure simply corrects the structural and aesthetic issues that are giving your stomach its unappealing appearance.
During the procedure, board-certified plastic surgeon Dr. Armand Simone will make a horizontal incision from hip to hip across the pubic area. This incision provides Dr. Simone with access to the abdominal muscles.
He will then surgically tighten the muscles to create a flatter abdomen using sutures to pull them tightly together. Dr. Simone will then surgically excise any excess skin. Excess fat will also be removed. The remaining skin will be tightly pulled over the abdomen to create a sleek and flat surface with enhanced muscle definition.
If learning about how the tummy tuck procedure works has helped you to decide to undergo the procedure, please contact Park Plastic Surgery Center to schedule a consultation with Dr. Simone.