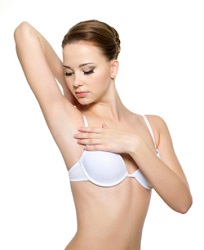 Hyperhidrosis is the medical term for excessive sweating. This condition is very common and affects a large portion of the population. Because the condition is not life threatening, many people are not aware of the treatment options for hyperhidrosis.
One simple and effective treatment for managing hyperhidrosis is Botox injections. When Botox is injected into the area it directly affects the sweat glands, preventing them from being able to produce sweat. This treatment is highly effective at reducing a majority of sweating, and the results from the treatment last for up to six months.
Contact us to schedule a consultation for your Botox hyperhidrosis treatment. Board-certified plastic surgeon Dr. Armand Simone will provide you with compassionate care and results that restore your quality of life.